Mark McGowan has set WA's opening date, but much about life with COVID remains a mystery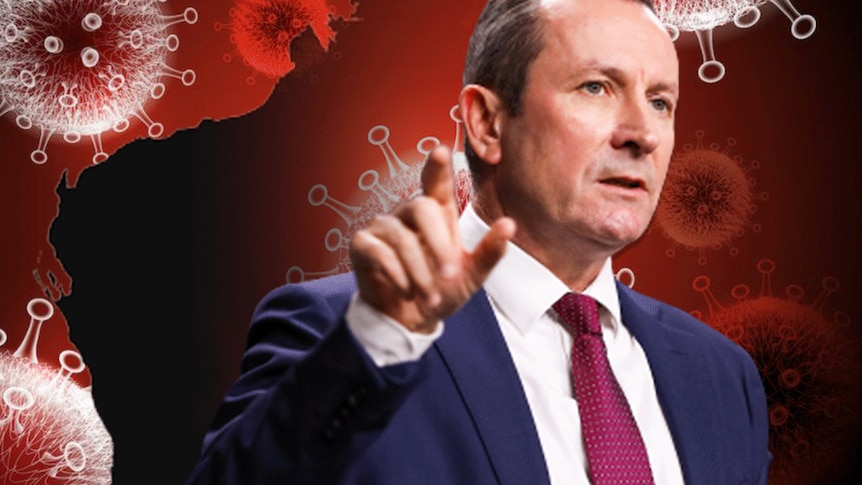 Western Australia, aka the 'Hermit Kingdom', has been warned: its 'COVID-free bubble of happiness is about to burst'.
This was the reality when the state government set a much-anticipated reopening date, after nearly two years of living sometimes as "an island within an island", closed to the world for months.
Premier Mark McGowan has said that unless an "unforeseen emergency or disaster" occurs in the meantime, highlighting Omicron unknowns or other more deadly tensions surfacing, the countdown is on Saturday. February 5.
This date will put an end to the opening and closing of WA's borders, as well as confusion and uncertainty over who is allowed to enter the state.
This ends, for the most part, a life without COVID while watching other parts of the world ride a roller coaster of new waves of viruses and take different routes to deal with them.
As WA's COVID-free era draws to a close, February 5 will mark a new beginning as Western Australians enter the messy, uncertain, even frightening reality of living with the coronavirus.
Joy for some, intimidating change for others
Like many consequences of the pandemic, this reality has divided public reaction and sentiment.
As it floods many people with relief and joy, it cannot come soon enough for separated families or small businesses desperate by an influx of tourists. It also poses a new and perhaps intimidating reality for others.
"What guarantee can you give that this decision will not cost me my life or the lives of vulnerable members of my family? An ABC social media user said.
"Can't we just can't? I loved being COVID-free," said another.
And as Western Australians finally got a date, questions began to snowball about how life would change.
A lot is known about life after the reopening, but much remains a mystery.
A lot of these questions revolve around what it really means to live with COVID. What happens if you, a family member, colleague or close contact are infected?
Take schools, for example. The state government is still developing the protocols for what happens if someone in a school community becomes infected with the virus.
"There are so many uncertainties [for schools] at a time when principles, in particular, seek certainty, "said WA Principals' Federation president Bevan Ripp.
"They want to be able to go into 2022 knowing their staff are in place, knowing that if there is an outbreak they will be adequately supported and that there are still many unanswered questions."
Watch and wait
It's a similar story for most workplaces, including the mining, hospitality, retail, and construction industries.
The government has said it will put those protocols in place by February 5, but it is largely adopting a "watch and wait" strategy to see how other states handle their reopenings.
All other jurisdictions have opened before WA, with authorities monitoring Queensland, South Australia, the Northern Territory and now Tasmania, which reopened this week, to see how they adjust to their 'new normal'. ".
The challenges of reopening have been magnified by the Omicron variant which continues to spread rapidly, leading WA to re-impose new travel restrictions to keep WA free of COVID until February 5.
WA will use interstate experience to help define its own reopening rules, which will likely include a new definition of what is considered "close contact."
Currently, this is someone who has had face-to-face contact or shared a nearby space for some time with someone infected with COVID, or someone who has visited a location with a high prevalence of infection. or has been in a location when the transmission occurred.
But new rules could be in place by February, with the state government waiting for the Australian Health Protection Principal Committee (AHPPC) to get an updated definition.
Improving health fails to allay fears
There are also concerns about what the new reality means for the state's healthcare system.
The government is confident the healthcare sector is ready, saying the workforce is growing and new hospital beds are on the way, and this week it injected an additional $ 1.28 billion in the system for opening. But doctors still have their concerns.
"There is no doubt that if we get a surge in COVID, the status quo in most hospitals will have to stop and elective surgery will have to stop," said the president of the Australian Medical Association WA, Mark Duncan-Smith.
"We saw it already this year in September, when there was no COVID. But the capacity of the system has increased since then."
There is also the unknown of the Omicron variant to face before now and the reopening, as the PM has warned that an outbreak could occur in WA before that date.
"We are doing everything we can to make sure we reach Feb. 5 epidemic free," McGowan said.
"But I can't guarantee that there won't be an outbreak until February 5. I can't guarantee that."
And if that happens, the government is still studying the impact it would have on the transition plan.
"We're thinking about it now. How we would do it and what we would do," said McGowan.
The prime minister warned that WA could face tougher restrictions, such as wearing masks in more settings, rather than reopening being delayed, depending on how quickly the virus is spreading in the east.
Another unknown is the proportion of the state's vaccinated population that would have been fortunate enough to receive a third booster injection by February.
The puzzle of the "new normal"
The state is also heading into its new reality with new Health Minister Amber-Jade Sanderson at the helm after replacing Roger Cook who had led the COVID ship so far.
And this weekend, WA went back to being "an island within an island," imposing travel restrictions on all states and territories.
This means that the state could be fully closed until it changes from a "Hermit Kingdom" on February 4 to the removal of its "WA Fortress" barrier and full opening of its gates the next day.
Western Australians can expect the unknown pieces of its "new normal" puzzle to start to come together in the coming weeks, as the protocols are finalized.
The community deserves these answers to help them prepare for the reality they face.
Loading form …