Climate change blocks process that causes leaves to change color in fall – NBC4 Washington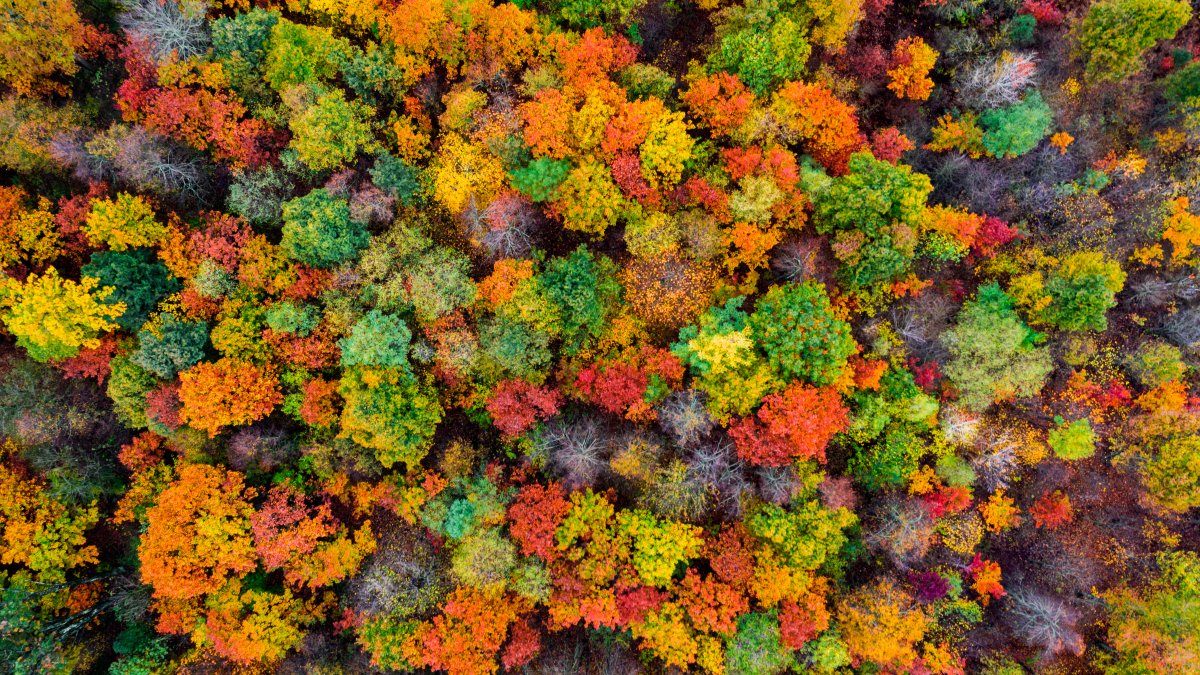 This story originally appeared on LX.com
As if extreme weather conditions, a housing crisis and long petrol station lines weren't bad enough, climate change has started to erode one of the simple pleasures of this time of year: fall foliage.
Warmer temperatures and the resulting threats to forests have impacted the process of leaves changing color, causing trees to stay green longer and take on muted colors, as NBCLX Jalyn Henderson recently reported.
Why do the leaves change color in the fall?
Leaves change color in the fall because less daylight and cooler temperatures cause them to stop producing chlorophyll, the pigment in leaves that gives them their green color, explained Colleen Matula, a forest ecologist at the Wisconsin Department of Natural Resources. When chlorophyll breaks down, the yellows, oranges and reds become visible.
How is climate change affecting fall foliage?
"Carbon dioxide is increasing because we keep burning fossil fuels, and it releases carbon dioxide into the atmosphere, and it's that carbon dioxide plus methane that is causing warming," Howie Neufeld explained, plant physiologist and professor of biology at Appalachian State University. . "In studies where plants were exposed to high CO2 versus lower CO2, plants tend to retain their leaves longer in the fall."
As a result, many places are missing this great explosion of color that occurs in a matter of days. Instead, some trees turn early in the season, others turn in the middle, and others much later, diluting the visual experience, Neufeld said.
"Climate change affects virtually every aspect of trees and their interactions with the environment, and fall foliage is no exception," added Dan Herms, a climatologist who studies the effects of climate change on trees. He also observed that persistent warm temperatures in the fall led on average to the leaves changing later in the season than they did decades ago.
Other threats to trees that may be linked to climate change, such as droughts, hurricanes and more invasive pests, may also impact fall foliage.
"This year we are going through a severe drought, and I have noticed with the fall color that this just does not happen, "said Matula." With the lack of moisture in these areas, all color has been either regrowth or the trees simply do not change color and the leaves simply fall off. We claim we are past the peak right now, but in reality we haven't seen the fall color we're used to. "
She added that "the exotic pests are just taking off. They are expanding their range, they impact trees by killing them and eating the leaves, which impacts their entire life cycle." Fungal diseases can also cause the leaves to turn brown instead.
"We see these forest health issues signaling us that something is happening here," said Matula.
What's the impact of less fall foliage?
You might think ignoring the beautiful hues that much of the country is used to is just a matter of aesthetics, but it can have a financial impact on communities. In much of the country, fall is the greatest tourist season because of the leaves, according to Neufeld.
"A lot of these small businesses and businesses can make a profit at this time of year, so it's important for people to come out and see the colors," he said.
Without fall foliage, he's also worried that fewer people will be inspired to enjoy the great outdoors.
"The more we take people into nature and the more they see how sensitive it is to what people can do there, they might be more valuable for that," he said. "They can put more emphasis on nature conservation, which can make them think more about what climate change is doing and maybe find ways to stop it."